Report of SPA's Medical Team in Argo - Badakhshan
Category: Reports
Written by Solidarity Party of Afghanistan
Published: Monday, 19 May 2014
Argo – Badakhshan is crying blood!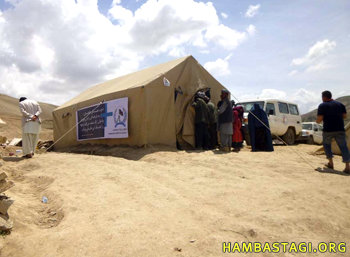 On 2 May 2014, a pair of mudslides occurred in Aab Barik Village, Argo District, Badakhshan province of Afghanistan, where initial reports said that 350 people were killed and 2,500 were missing. Although millions of dollar cascaded into Afghanistan, filling the pockets of criminal warlords' pocket to buy luxury villas in Palm Islands – Dubai. ANDMA (Afghanistan National Disaster Management Authority) headed by Karim Khalil a brutal warlord from Hezb-e-Wahdat and currently second vice-president and a billionaire, simply announced that we don't have the facilities to remove the dirt and rescue possible survivors and find dead ones.

On 5th May 2014, a volunteer medical team of SPA's, 20 personnel composed of doctors and health workers and assistants, along with medical packages rushed to Badakhshan to help the survivors. We also sent an appeal to our supporters and members in Afghanistan and abroad, requesting for urgent action to help. It worth mentioning that our appeal was very well-received by the generous individuals. Most of them replied us within few hours, expressing their condolences and support. SPA thanks them for their continuous support!
Dr. Daud Razmak, Head of SPA, led the medical team to Argo
The team reached to the area on its next day, but on their way to Badakhshan, they noticed many other villages of the province have been badly affected by the flash floods, destroying their houses and all possessions and even livestock. So they decided to visit those areas as well.
Dr. Daud Razmak, Head of SPA, and also leading the medical team says that once they reached to Aab Barek Village and the residents came to know that medical team has arrived to Kabul to treat them, they rushed to help the team install the tent and with other logistical issues.
Within an hour of arrival to the scene, a mob of women and men visited the mobile clinic for treatment, and it continued till 11 o'clock at night. On its next day, the team started their work early at the morning. The team had female doctor and nurses and two Uzbeki speakers as well to help with translation as the local language in the area is Uzbeki. This proved to be very helpful and all of the female patient visited SPA's mobile clinic.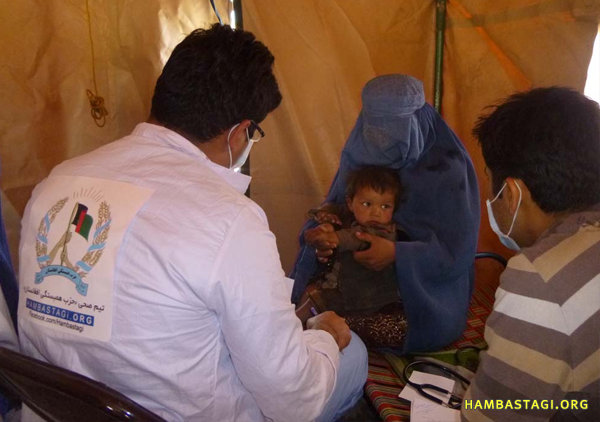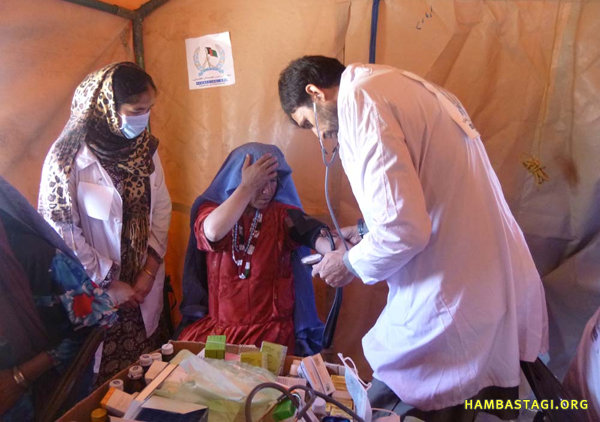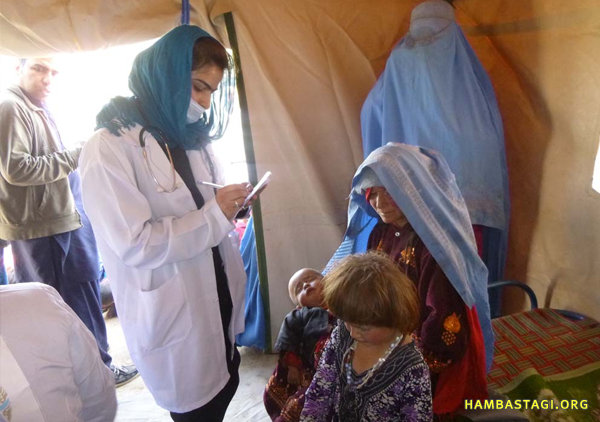 The situation is very depressing in Aab Barek. Everyone is thinking of their financial and media gains. A commission has been established through which all aid, except for medical supplies, should be channeled. The so-called commission collects all the reached aid in a nearby mosque. A small portion of the aid is distributed and then making the crowd as an excuse, the rest of aid is delayed and it gets lost.
SPA's medical team treated 310 patients in Aab Barek and then moved to other villages like Semati and Afaqi. In Semati, they treated 300 patients. Afaqi is another village in Argo with a landslide which has destroyed 1000 hector arid irrigation land and 260 hectors of watered irrigation land. The 300 families are displaced to the surrounding higher grounds. But no media and government officials have ever visited them.
Click here to get the higher quality pictures.
SPA Medical Team In Semati Viallage