Hambastagi Representative Meetings with Turkish and Kurdish Revolutionaries
Category: Reports
Written by Solidarirty Party of Afghanistan
Published: Monday, 25 January 2016
Ubaid Kabir, representative of Solidarity Parity of Afghanistan – SPA, had a visit to Turkey on November 2015 to meet the freedom-loving and progressive organizations and individuals. In the visit, arranged by Coordinamento Italiano di Sostegno alle Donne Afghane (CISDA), he met the political parties and human rights defending organizations in Istanbul and Diyarbakir.
Sabahat Tuncel and Ubaid Kabir
His first meeting was with Sabahat Tuncel and Ertuğrul Kurkcu, the honorary co-leaders of People's Democratic Party (HDP). Ms. Tuncel, whose second home is prison, was imprisoned by Turkey's government on the allegations of links with Kurdistan Workers Party (PKK), and from inside her cell, she nominated herself in the parliamentary election, where she won with more than 90,000 votes from Istanbul. A revolutionary walking from prison cell directly to the parliament. Mr. Kurkcu is the only revolutionary saved from Kizildere Massacre in the 1970s. In the meeting, both sides mostly spoke about the struggle against fundamentalism in the region.
Figen Yüksekdağ and Ubaid Kabir
Ms. Tucel said: "If I wasn't forbidden by government to travel out of the country, I would love to visit India and Afghanistan to know about the struggle of women in those countries."
Then Kabir participated in press conference, where Figen Yüksekdağ, Co-leader of HDP, Kamuran Yüksek, Co-leader of DBP, and Sabahat Tuncel were speaking about the recent results of Turkey elections and criminal role played by AKP led by Erdogan in the country. During the open discussion, representative of SPA said that Erdogan and his party is not only playing a dirty role in Turkey, but has a high hand in the region committing crimes and fascist actions. He is support the most brutal criminals in Afghanistan such Abdul Rashid Dostum, whose name as war criminal has been mentioned by Human Rights Watch as well. Kabir had a short meeting with Ms. Yüksekdağ after the press conference.
The next meeting of Kabir was with Ceylan Bağrıyanık, Director of Free Women's Congress (KJA), and Ayşe Duru –the revolutionary author and translator of Turkey, spending many years of her life in the prison. Both sides spoke of importance of the active role of women in the Kurdish Revolution. Ms. Bağrıyanık was actively involved in the peace negotiations. Although as first, the Turkey's government was not ready to accept a woman in the table of negotiations but Abdullah Ocalan called it an inhumane panel and threatened to stop the negotiations. Ms. Bağrıyanık mentioned that for the Kurdish Revolution the freedom of women is a priority, because if they don't break the chains of patriarchy, then the next steps of struggle would be impossible.
Besides thanking SPA for arranging the solidarity rallies in seven cites of Afghanistan to defend the Kobani's epic warriors, Ms. Bağrıyanık said:
"In 2012, it was a hard time for our women and situation seemed bleak. Malalai Joya from Afghanistan was here in Kurdistan to attend a conference. When we listened to her speech, it was not only encouraging for me but for all the Kurdish women present in the conference."
Sedat Şenoğlu and Ubaid Kabir
In the meeting with Sedat Şenoğlu, member of the central committee of Oppressed Socialist Party (ESP), Kabir said: "We consider your martyrs like Ezgi Sadet and Suphi Nejat as your martyr but also our own martyr and point of inspiration, because they sacrificed their life for humanity."
The next day, Kabir participated in funeral of Aziz Güler, a Turkish revolutionary killed in the direct fight against ISIS, and his body was taken by the Turkey government in the border while moving him back to Turkey, but after 49 days of strive of his family, the government had handed back the body. More than 15,000 people had participated in the funeral and they were shouting, "Aziz is not dead!"
Aziz Güler
Father of Shahid Güler said:
"Today, I am not crying because Aziz has died for humanity and a free world. I hope everyone present here can go to Kobani and join his front."
In Diyarbakir, SPA representative met with Foreign Affairs Committee of DBP led by Muherrem Erbey. Mr. Erbey is one of the well-known defense lawyers of the country and when he was in the leading committee of Independent Human Rights Commission of Kurdistan, he was imprisoned for five years for defending the tens of cases of the imprisoned political prisoners.
Mr. Erbey said:
"Mr. Ocalan emphasizes on the collaboration of freedom-lovers in the region. He says that still we are colonial mentality that we refer everything to the west. We are in close contact with freedom-lovers in Europe but know less of Afghanistan, Pakistan and India."
During this visit, Ubaid Kabir also met with Saturday Mothers, Group Yorum, Koma Azad, Memory Center, Matin Yagin – the well-known Turkish documentary maker, and some HDP's municipalities, to know more about their practical struggle against the fascist regime of Turkey.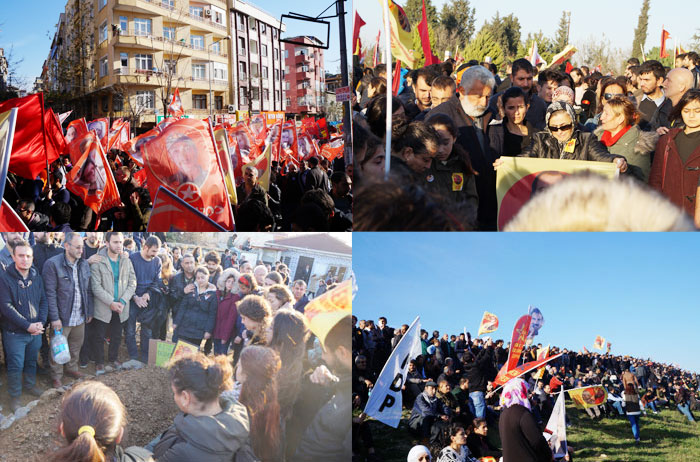 Shahid Güler's Funeral