The Life of Fatima from Farah Is the Bitter Tale of Afghan Women
Category: Reports
Written by Hamid
Published: Tuesday, 07 May 2019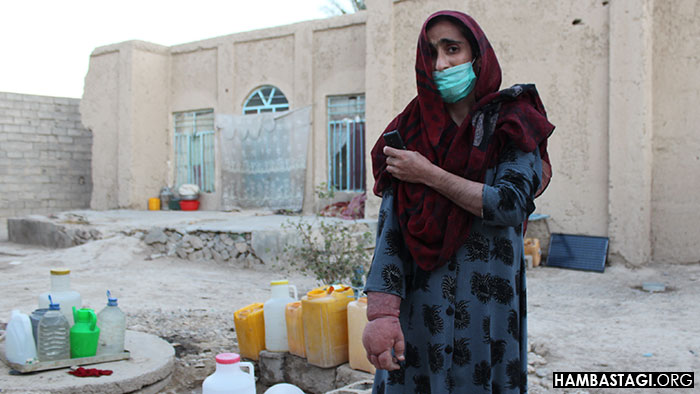 Fatima, 44, from Farah province lost her husband and six children in an IED incident seven years ago. Now a fragment is stuck in part of her backbone, which has resulted in paralysis of her hand with constant inflammation and is suffering from poor health and severe pain.
She says:
"Wherever I go, nobody cares about me and no one responds to me. I don't know where and who to complain to? If I tell you my story, even a stone will melt down."
And then talks about her tragic life:
"My father, Gul Mohammad, was martyred during Russians' invasion and was survived by two daughters. I married Din Mohammad whose wife was dead and had two children when I was only 13 years old. Our life was fairly good until seven years ago our car was hit by an IED on our way to a wedding in Qala-e-Kah [a district in west of Farah] and our children were killed: 20 years old Farid, 16 years old Khadijah, 12 years old Hamidullah, 14 years old Hakim, 17 years old Maryam, 28 years old Rahim and my 55 years old husband, Din Mohammad. I was taken to the hospital by the local people while I was in coma. I was also pregnant at the time and when my son was born he was breastfed by a goodwill neighbor until he was two and they also looked after my 4 years old daughter."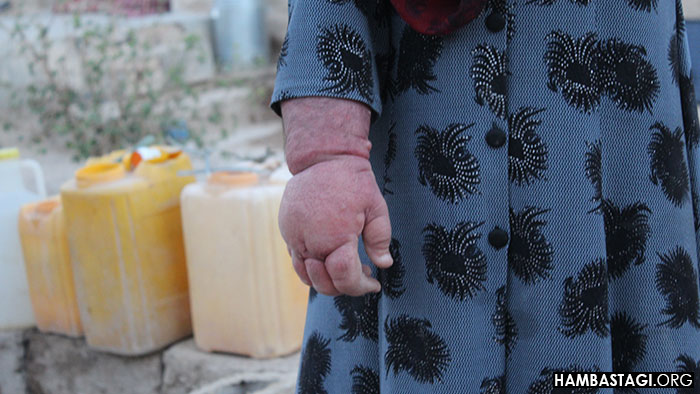 Now, a fragment of IED has stuck in her backbone, which has resulted in paralysis of her hand with constant inflammation and is suffering from poor health and severe pain.
She continues to tell about her current problems:
"All my family members were martyred, but I receive only one person's annual salary of 60,000 Afghanis [USD 800] from the office of the martyrs and the disabled in Farah with so much hurdles and sometimes I do not even get it. If you don't have connections in the government, you won't be able to get anything done. From when I lost my guardian, I have lived with sorrow and pain and there is not a day that goes by without tears and misery in my life."
Fatima is in debt and the landlord wants the rent paid, so the pain of her hand, the mental and emotional distress caused by the poverty and the bleak future of her two children, has hit her hard, especially since the mentioned governmental office has not paid her money in several months and her days have worsened. She says:
"I went to the office of Martyred and Disabled many times so I could retrieve the salary of my husband which is equal to 60,000 AFN on annual basis. Not only one official but several of them told me: 'Give money and take money.' I asked them what it meant and they explicitly told me: 'Give 10,000 AFN of this money to us…' but I did not do it and will not do such a thing.
The rent is 3,000 Afghanis per month and the landlord comes to my door after several days to ask me to pay him the rent, otherwise he will throw me out of his property. I haven't receive any money from the office of Martyred and Disabled, and I always tell myself: 'I wish I had a single room to live, so I didn't had to go out in such a bad health condition and wasn't forced to plea for help to these filthy people.'"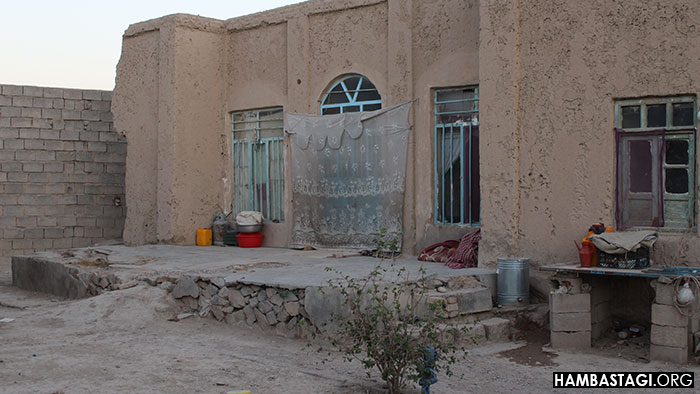 Fatima and her two children live in an old house sharing it with another family, and has to cover all the expenses, whilst she has no other income than her husband's pension, which is not paid to her on time by the corrupt officials. All she hopes for is to find a job, which could become a source of income for her:
"I hope someone employs me for a job. I can work as a guard, I have two children to feed and have to provide them with clothes, notebooks and pen. I referred to government officials many times for employment but no one responds me. Oh God, when will you curse them so they can understand how I feel? There is not a night that I go to sleep without crying."
She also has a heavy heart from Farah's representatives in parliament:
"I went to Samiullah Samim, a member of parliament and told him of my problems. He replied me: 'Hundreds of people like you come to me on daily basis and how can I help you?' I have suffered immensely, I can't tolerate such words, and I know they talk from their filled stomach. I directly told him: 'You are a traitor!' He said, 'Are you telling me this?' I said, yes. He told me to leave his house and I told him that his votes are his money and I left his house and there were two other girls in his office who laughed and made fun of me."
I went to the office of another candidate, and there was a boy campaigning who sarcastically told me that I am lost in between offices all day long. I said, you are right, I'm lost. I am lost because of my problems and not by excitement. I told him if you cannot help why are you hurting me? This person's statement has left me deeply affected like a cancer. A number of people like this boy who still have not endured any pain think that I am a quean which hurts me the most."
However, Fatima considers her seven-year-old son, the only hope of her life. Despite all the challenges, Fatima makes all the efforts towards her children's education and says that the only hope left for her are her daughter and son.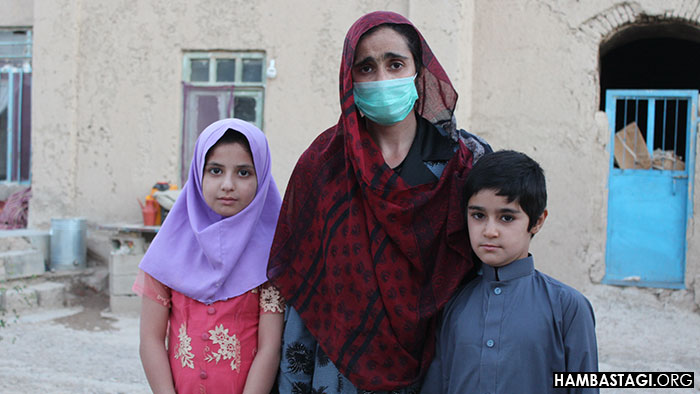 "There are days when I follow up my case and there is no progress, I become disappointed and cry at night and I request my death from God. My son, who is now 7 years old consoles me: 'Don't cry Mom, you are not going to die when you didn't when I was in your womb, wait for me to grow up so I can finish school and go to university, then I will be able to solve your problems.' Then I swim into deep thoughts and tell myself besides all the problems I have a good supporter."
Fatima, although suffered throughout her life, but is a subtle and clever woman. She adds:
"When I listen to these traitors and a bunch of corrupt people, I can't help but to insult them so my heart can feel relieved and for this reason they push me in sideline and don't let me explain my sorrows."
Similar to Fatima's tragedies, there are thousands untold stories in every corner of this land and these long-lasting wounds will not heal until the committed people do not take control over their community and turn this tragedy into struggle. If we do not stand up to these injustices, the ongoing catastrophes will continue for years. Therefore, the awareness and mobilization of the people based on an organized struggle will create the path towards Afghanistan's peace and prosperity. Until and unless the oppressed don't take control over their fate, the cruelty, oppression and treachery will not vanish in our homeland.
The sorrow and misery of Fatima and alike calls every modest conscience for struggle and resistance against the ruling traitors and their masters.