Justice for the Karkar Coal Miners' Blood
Category: Reports
Written by Naim
Published: Sunday, 26 February 2017
Hussain S/O Safdar and Hanif S/O Bahman Ali
On Jan 7, 2016 at around 1300 hours, masked men attacked the car of Karkar coal miners in Tala and Barfak district of Baghlan province, killing eight and injuring three.
These 18 coal miners were from Daikundi province (worked in the mine to feed their families) and while returning home to their families, their car was stopped (in Anardara Bridge, Tala and Barfak district of Baghlan province) by six masked men identifying themselves as Daesh and shot down for belonging to Hazara community and Shi'a sect. In this horrible crime, eight of our countrymen were killed and their names are:
1. Sakhi S/O Qurban (Shahristan district)
2. Naik Muhammad S/0 Yaqoob (Shahristan district)
3. Hussain Dad S/O Juma (Shahristan district)
4. Sardar Kochi (Meeramoor district)
5. Ali Wafa S/O Ali Muhammad (Ashtarli district)
6. Sakhi S/O Hussain Dad (Ashtarli district)
7. Khudadad S/O Mosa (Shahristan district)
8. Suleiman S/O Hassan (Shahristan district)
The three severely injured men who were taken to the hospitals in Baghlan and Mazar-e-Sharif are:
1. Hanif S/O Bahman Ali (Shahristan district)
2. Muhammad Hussain S/O Ahmad Ali (Meeramoor district)
3. Hussain S/O Safdar (Meeramoor district)
In this incident, five men namely Ibrahim, Hussain Ali, Rahman, Zaamin Hussain and Hassan Jan escaped safely. There is no information regarding the remaining two men.
A member of Solidarity Party of Afghanistan (SPA) in Balkh province expressed his solidarity when visiting two of the injured in the hospital and heard the horrible story.
Hussain S/O Safdar who was severely physically and mentally injured and spoke with difficulty, described what he witnessed:
"We were 18 men in the car, 16 in the backseats, one in the front and one driver. When we reached the bridge, two cars stopped and six men stepped out. I could not see anything except their eyes. They started firing at us but I managed to get out and hide under the car. One of them saw my hand and hit it with a knife. I was injured but I somehow escaped by jumping into the river. I was in the river for almost an hour when they lined up the men and when some tried fleeing, they ran after them. They started shooting and threw the bodies in the river. Two of them floated away in front of my eyes. The third one was my uncle Suleiman who was severely injured whom I held for an hour until we reached the hospital where he died. When the armed men drove away, we left the bridge and stopped a car, paid him 500 Afghanis and he dropped us to the district. After that, I cannot remember anything."
After the hospital visit of the SPA representative, the families of martyred requested the party to join them in a protest near the District Council's office. He expressed solidarity and to seek justice for these martyred men, while explaining the true nature of this criminal government and its bodies.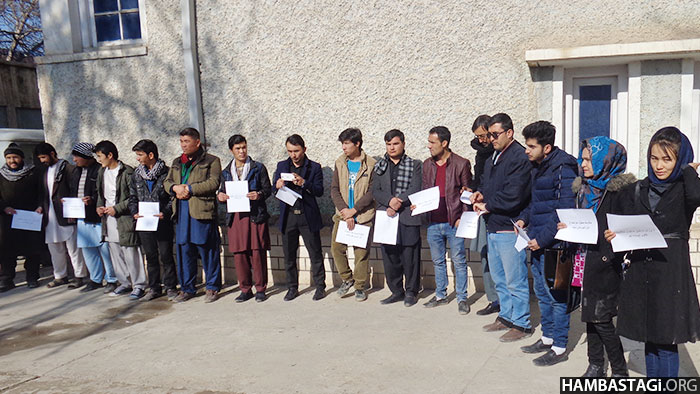 Justice for the Karkar Coal Miners' Blood
Daesh, a force darker than Taliban, have proved their brutal nature by kidnapping and beheading Tabassum and others, suicide bombing the protests held by Junbish-i-Roshnaee and mourners of Masjid Baqir-ul-Uloom attack and actively fueling ethnic and religious enmities. However, Tabassum's blood led to a movement of justice-seekers uniting all ethnicities and let us not forget the blood of our innocent and hard-working people this time as well.