Martyr Ahmadullah's mother: I saw the light of my future in my innocent son's eyes
Category: Reports
Written by Heela Noori
Published: Saturday, 04 July 2015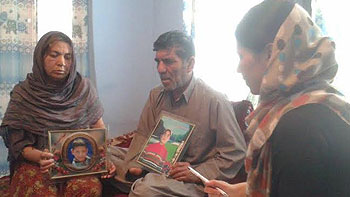 On March 29, 2015, at six in the evening a suicide attack was carried out in the Shah Shaheed area of Kabul by the Taliban pigs, and the victims were once again our people. It is said that the target of the suicide bomber was Gul Pacha Majidi, a member of the Parliament. He survived the attack but the most innocent people were killed. Two of those killed were Mohammad Faisal and Ahmadullah who were already living a life of misery and sorrow.
Martyr Mohammad Faisal and his cousin martyr Ahmadullah were both students who worked part time in a drugstore to help their poor families with the small bit of money they earned. The Taliban brutes wounded this already suffering family. 13-year-old Ahmadullah was martyred at the attack site and 15-year-old Mohammad Faisal was severely injured. Ashraf Ghani visited Majidi in the hospital and all the roads were blocked for his security. Faisal's family could not cross this blockade to donate blood to their loved one and he died due to severe blood loss.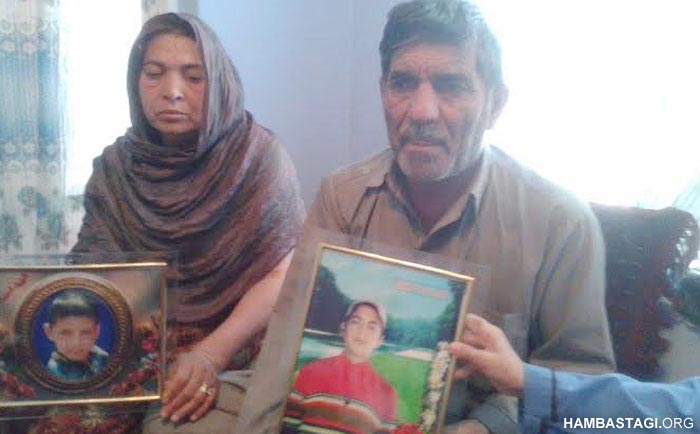 Martyr Faisal's father and martyr Ahmadullah's mother
On May 26, 2015 I went to visit the mourning family and heard their sorrowful story.
Zabiullah, Faisal's father, described his hard life,
"I served my country in the police force for thirty years. I lost a hand and two eyes. Now I live in these ruins with my brother and sister. My wife works as a teacher and we live a very difficult life with her meagre salary of 6000 AFS (100 USD)."
Zabiullah told me how his beloved son's death completely broke him,
"I had collected 8,500 cc of blood for my son. The Minister of Public Health, this reactionary traitor, promised that they had blood but did not give my son a drop of blood. He asked us to bring people to give him blood. Many of our friends and loved ones had given blood for my son, you can see their names in the list, but my injured son did not get blood on time and died."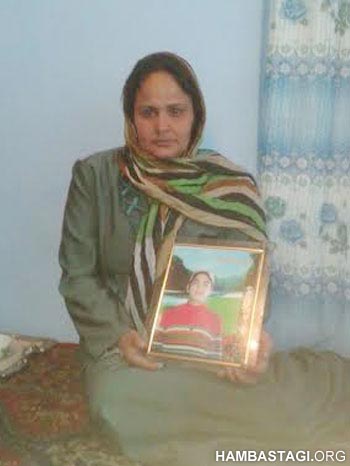 Adila, martyr Fasial's mother
Zabiullah, like most people of Afghanistan, also suffers from his eldest son's joblessness. His son has graduated from high school and like all other young educated people, he is a burden to the society because he cannot find a job.
Adila, Faisal's mother, said tearfully, "My son died because he did not get blood on time." She added, "Because President Ashraf Ghani had come to meet Gul Pacha Majidi (MP) whose foot had been injured, the roads were blocked and we could not reach the hospital on time to give my son some blood. And he died." The mourning mother who was crying at this point said, "I still wait for my son's return every evening. This pain is never going to leave me."
Zhila, Ahmadullah's mother, lives with her brother Zabiullah. Her husband had gone missing thirteen years ago. She has two daughters and had one son whom she lost in the suicide attack. She has a heart disease and blood pressure but is still forced to work to earn for her small family. Zhila works in an office in Qalay Zaman Khan area of Kabul.
Zheela, martyr Ahmadullah's mother
Zhila recounts, "Ahmadullah jan (Ahmadullah dear) was three months old when his father went missing. My in-laws forced me to leave my house along with my three children." She started weeping, "I brought up my kids with a lot of hardship, sent them to school, slept hungry so my children could be comfortable, but I did not know that another calamity is coming my way. I cannot take the pain of losing my Ahmadullah and it eats me from the inside. After I had lost my husband, I saw the light of my future in my innocent son's eyes."
Zhila described her son's hopes and desires,
"Ahmadullah wanted to fulfil all my unfulfilled wishes. He always comforted me saying that better days are coming. Although he was a child, he wanted to help me run the house by working in the drugstore. He was not even a teenage but he could still understand and feel my misery and agony."
Ahmadullah's sisters sat in grief at the loss of their only brother. Their biggest concern now is their mother's health, the mother who has been their breadwinner and shelter under all circumstances. The Taliban criminals have made the life of this poor family unbearably hard with this dreadful attack.
In our enslaved homeland, this is not the only family that has been the victim of the murderous Taliban and foreign invaders. Thousands and thousands of children have been the easy targets of wars for years. The bloods of these innocent children are a shameful stain, and a blow on the corrupt, puppet governments of Afghanistan and their foreign masters. Only a freedom spring can free our nation from this catastrophic situation, and only a pro-people and democratic government can protect our defenseless people.
Faisal and Ahmadullah left for school with big hopes in their hearts, but instead ended up being buried in their graves forever.